Featured Product: Al-Syed Ceylon No.1
Sorry but I don't have words to describe this oud oil. "Unearthly" is all too commonly used to describe oud oils, but that's about the best descriptor for it.

Here's my best shot at describing the oil's aroma:
The opening notes are clearly Sri Lankan Walla Gyrinops. You won't mistake it for anything else. Wildflower honey, green apple, guava, ripe starfruit, dashes of cinnamon and cardamom, and delicate flowers.
About five minutes in, it starts to change into something... quite different. Fifteen minutes in, and my brain blows its fuse...

Discover...
Featured Blog Post: Sri Lanka 2016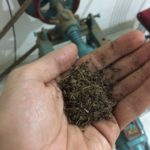 "When it was finally time to light the fires, I glanced at Mr. A. His earnest face expressed equal parts anxiety and excitement.
I'm sure mine was the same.

After 2 whole years of waiting, Agar Aura's first ever Sri Lankan Walla Patta oils were finally being born.
A momentous occasion indeed!

As I smell the two oils currently under production, the enchanting aroma rising from the small dabs smeared on each forearm spinning my mind, I can assure you: it was well worth the wait."

Read more...