-
this offer has ended-
WHOLESALE AGARWOOD

After more than a year of waiting, Agar Aura has finally re-opened the gates for raw agarwood sales!
To add to your excitement: for a period of 10 days only, we are offering you wholesale prices for the two top grades of agarwood for fumigating: sinking Double Super grade (top Arab-market grade), and sinking 'baby' King Super grade (top Chinese-market grade).

I have seen wood one grade lower than our Double Super batch typically being sold for double the price (even 3x the price).

And as for the baby King Super batch, then I have not seen wood of this grade made available yet by any stores – online and physical alike (with the exception of Japanese incense houses selling Kyara, but that's a whole different story).
Even we only sell whole batches of this grade exclusively to Chinese and a few Arab clients, and they only get this grade if they buy other grades of wood along with it.

The overall scent profile of both grades is the same. Remember the duo release of our two Malaysian oud oils Ukupan Kayu and Sutera Ungu? In the case of these two batches of wood, the similarities and differences can be analogized the same way.
Consider Dickens' original masterpiece Great Expectations. This can be likened to the baby King Super batch. The Double Super grade batch, on the other hand, can be likened to an abdriged version of the novel. The characters, events and lessons are all the same.

The aroma is classic Taman Negara (remember Kemegahan & Sempurna?)
There's the vanillic opening, and the tangy-sweet tamarind-and-date-syrup aroma Taman Negara agarwood is so well known for. Peppery spices and rugged woodiness, with a backdrop of bread baking in the oven. A healthy dose of caramelizing palm sugar. Lapping layers of sweet resin. Pure oudiness.


Double Super
"Baby" King Super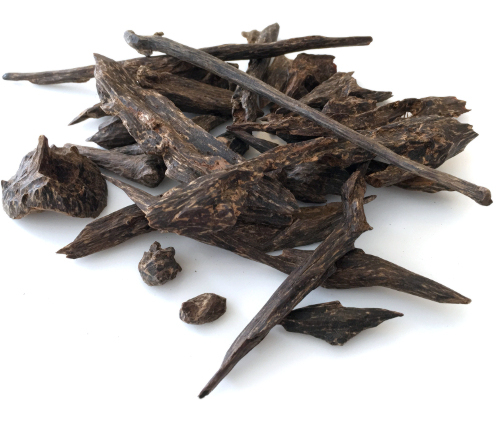 Optimal temperature curve for heating the Double Super wood:

very high (1 sec) → very low → high (2 sec) → medium → low
Optimal temperature curve for heating the baby King Super wood:

very high (3 sec) → very low → high (5 sec) → medium → low
→ high
Note:
I wasn't going to post any customers reviews for this wood, since the aroma is completely dependant on how skillfully the wood is heated, and thus everyone's experience will be different.
However, one of my customers who has visited my home (and understands my heating methodology and the "why"s behind it very well) followed the temperature curve recommendation, and perfectly executed every stage of the heating process. Here are his notes; I hope you are able to replicate the optimal experience as well:
Hi Taha,
Just tried out one piece (trunk) of the BKS with your recommended heating profile.
1. Heat at strong heat (10v), 5sec
2. Drop to low heat (6v) to release light citrus note with a hint of sweetness
3. Up to medium heat (7-7.5v) for the vanilla sweetness interlaced with an underlying tinge of citrus tanginess
4. Heat strongly (10v), 5sec
5. Drop to medium strong heat (9v) for peppery spicy note
6. Medium heat at 8v for rich vanilla sweetness wth a tinge of bitterness on the edge
Need to try out a couple of times more with the varying temperature for optimum listening. But so far it seems to be tangy -> vanilla sweet -> spicy in order of low to high heat. This piece reminds me of my Hainan wood but with a deeper vertical depth and wider horizontal complexity. Nice and rich room temperature fragrance too!
M.A. (Singapore)